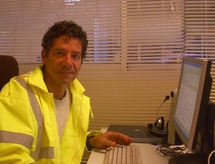 Tony Laubreaux is a graduate engineer of the School of mechanical engineering at the University of New South Wales in Sydney, with specialisation in naval architecture. He has worked in shipbuilding, in shipyards as well as independent design offices, in Australia for over 10 years.

He operates his own consultancy office which has been established for over 10 years in New Caledonia, and has worked on many maritime projects, especially ships and boats, in the areas of fishing, cargo transport by ship and by tug and barge, passenger transport, and many others.

He now has over 22 years experience, and has been established in New Caledonia since 1998. He is a member of the Royal Institution of Naval Architects based in London, as a recognised professional engineer.